Cindy Sheehan's organizing a March on the Pentagon.
WOMEN RISING TOGETHER FOR PEACE: UPCOMING EVENTS FOR WOMEN'S MARCH ON PENTAGON
Women Rise Together for Peace
***
PRESS RELEASE:
An Open Invitation:
Women's March on the Pentagon
UPDATED ENDORSER'S LIST:
CLICK HERE ***

UPCOMING LOCAL ORGANIZING MEETINGS FOR
THE MARCH
(CINDY WILL BE LEADING):
NATIONAL ORGANIZING CONFERENCE CALL
WED, MARCH 21 (COMPLETED)
CLICK HERE FOR SUMMARY AND RECORDING OF CALL
*


April 5th

in Washington DC
CLICK HERE FOR WDC MEETING INFO
*


April 9th

in Boston

*





April 12th

in Long Island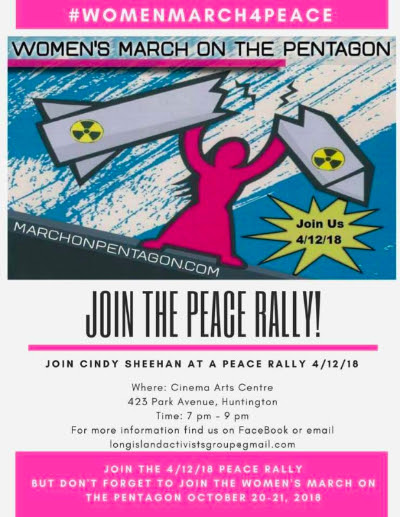 APRIL 13TH

: LANCASTER, PA
JUNE: CHICAGO, IL
contact Cindy Sheehan for
more info, to organize a meeting/action
in your area or ??
CindySheehan@MarchonPentagon.com